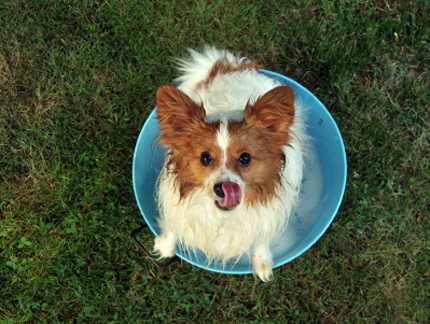 Are essential oils safe for pets? What essential oils are best for my animals and how do I use them?
As an animal lover and pet owner, I've never wanted to use chemical based shampoos or medications on my 4-legged friends. It just seemed natural to apply the same standards to them as I do to myself.
Young Living Essential Oils, as a company, has a very animal friendly culture. Founder Gary Young owns and rides horses and frequently brings one to events to demonstrate the "Raindrop Technique" for applying oils along the spine. Horses have very long spines!
At the suggestion of a friend with a new puppy, I combed through my resources on essential oils aromatherapy for pets and my own practices to find the best and safest uses for essential oils on pets. Here is what I found.
Calming:
When traveling or home alone some pets experience anxiety. Dogs in particular tend to become stressed if left alone while the people are at work. Lavender essential oil has long been used for it's calming effects on people and is gentle enough to be used on pets. Remember, their noses are much more sensitive than ours so try to avoid applying essential oils directly to your pet. A better solution is to place the oils on a cotton ball near or in your pet's bed or diffuse a bit into the air, making sure to turn your diffuser off before you leave.
Cleaning:
Whether you have kittens, horses or ostriches, animal areas and supplies require lots of cleaning. I only use Thieves cleaner on my pets' areas for safe and effective disinfecting and cleaning. For outdoor water dishes/buckets (dog, horse, chicken) I finish by adding a drop of Thieves Oil to the water to prevent gunk from growing. For baths, Animal Scents Shampoo from Young Living is free of chemicals and skin irritants and contains therapeutic grade essential oils for a healthy, shiny, odor free coat.
Minor First Aid:
Prevent infection, soothe pain and help heal cuts, scrapes, or abrasions on your pet with the powers of melaleuca, rosewood, balsam fir and more. My favorite ointment for all my pets is the Animal Scents Ointment from Young Living Essential Oils. It's thick, moisturizing and keeps the oils right on site to soothe my pet's scrapes. I also apply it as hoof ointment to my horses feet to prevent bacterial infection and moisturize the hooves. Be careful not to put any oils or ointments directly in an open wound.
Tips and Things to Avoid:
Animals have a much keener sense of smell than people and may be upset by a very strong scent. An animal healer I once saw at a clinic recommended placing a drop of essential oil in your hands, rubbing them together and then offering them out for your pet. They will most likely be curious by the smell and investigate. Oils that solicited a strong negative reaction were not used again.
Undiluted therapeutic grade essential oils are very powerful. Avoid getting oils near your pet's eyes or applying them full strength to your pet's body. Don't feed oils to your pet unless the oil is rated as GRAS (generally regarded as safe) for consumption and be sure you adjust portions based on body weight. Air on the conservative side.
These are just a few uses for essential oils on pets and are a great way to bring your pet into your natural lifestyle. Have fun playing with oils and your pet and please write me below if you have any questions or suggestions!
The oils and essential oil based products we talked about here were:
We only use and recommend Young Living's therapeutic grade essential oils. To purchased oils, register as a customer (for retail pricing) or Independent Distributor (for wholesale pricing). To register you will need to enter the School of Essential Oils ID 1183721 as your sponsor and enroller ID. More information on buying essential oils here!
P.S. Couldn't resist putting up a few pictures of my pets (clicking makes them bigger)! Tell me about your pets!